Nearly half of healthcare workers said they felt undervalued or blamed burnout; 85% said they would take upfront cash in exchange for a time commitment with their company
ATLANTA, Georgia – April 24, 2023 – Today, Keep Financial released its Healthcare Attrition Report with insight on employee sentiment, engagement, satisfaction, compensation, and retention in the healthcare field. Of the nearly 300 healthcare workers surveyed, nearly half feel undervalued as employees, with over 40% considering leaving their jobs for better pay, work-life balance, or feeling burnt out. However, 85% of respondents also said they would take an upfront cash bonus (beyond existing compensation) in exchange for staying with their company for a specified period of time.
Since the start of the pandemic, the industry has seen a noticeable increase in burnout and resignations. With healthcare needs still high, those resignations only compound the staffing shortage problem and put more stress and demand on the remaining workers. According to U.S News & World Report, recent increases in healthcare resignations have also had a noticeable impact on patient care: one out of every four Americans has been impacted by the healthcare shortage, and 68% encountered delays in receiving care during the second half of 2022.
The Healthcare Attrition Report identified the top reasons healthcare workers are thinking of leaving their jobs:
Need for better pay (56%)
Feeling undervalued (49%)
Burnout (46%)
Better opportunities (36%)
Improved work-life balance (33%)
This is a significant industry challenge since nearly two-thirds of workers that feel undervalued say they are considering leaving their company in the next year. If healthcare organizations addressed this retention challenge with upfront cash bonuses, healthcare workers said their personal financial priorities would be:
Paying off debt (39%)
Saving for retirement (38%)
Investing (27%)
Setting up an emergency fund (24%)
"We all know the past few years put an extreme strain on an already overextended healthcare system. With the increase in mobility, decrease in geographical commitment, and a recognition by many health professionals of the unnecessary overwhelming stress of their roles, we've hit the epidemic stage of professional shortages," said Rob Frohwein, Co-Founder and CEO, Keep Financial.
Frohwein continued: "Even still, the industry demands these professionals deliver the highest level of patient care possible. Something has to give, and we believe a more innovative solution is necessary."
Keep Financial is helping to redefine what compensation packages should look like and what they can deliver, both for employees and employers. The Keep platform is a plug-and-play solution designed to deliver a vesting cash bonus earned over time. For healthcare workers, a compensation package with an upfront cash bonus tied to retention allows them financial freedom they may not get with traditional compensation alone. Additionally, employers benefit from having satisfied employees who stay with the company longer, thus reducing recruitment costs and ensuring more consistent, high-quality patient care.
Download the Healthcare Attrition Report at: keepfinancial.com/healthcare-attrition-trend-report
Join Keep Financial at ASHHRA 2023, April 24-25, at booth #736 – RSVP to Keep's exclusive cocktail event Monday, April 24th, from 5:30-7-30pm at JP Charlotte: keepfinancial.com/ashhra-cocktails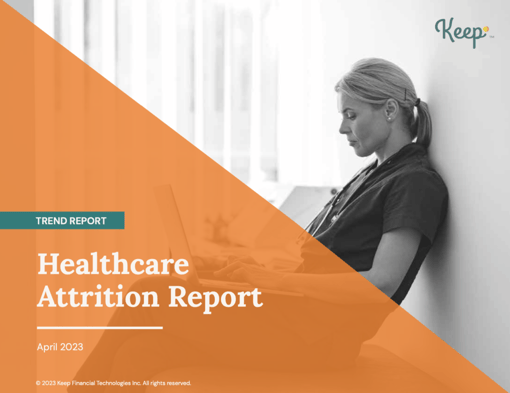 About Keep Financial Technologies, Inc.  
​​Keep Financial is revolutionizing compensation to directly improve recruiting, retention, and performance – aligning compensation with business objectives and ROI. Keep's platform enables employers to provide upfront compensation earned over time, encouraging employees to stay with employers longer while helping them meet their personal financial goals. Keep Financial is backed by Andreessen Horowitz, Launchpad Capital, Thomvest Ventures, Cambrian Ventures, and Worklife Ventures.
To learn more about Keep and start attracting and retaining talent today, visit keepfinancial.com
Connect with Keep on Twitter, LinkedIn, Facebook, and YouTube